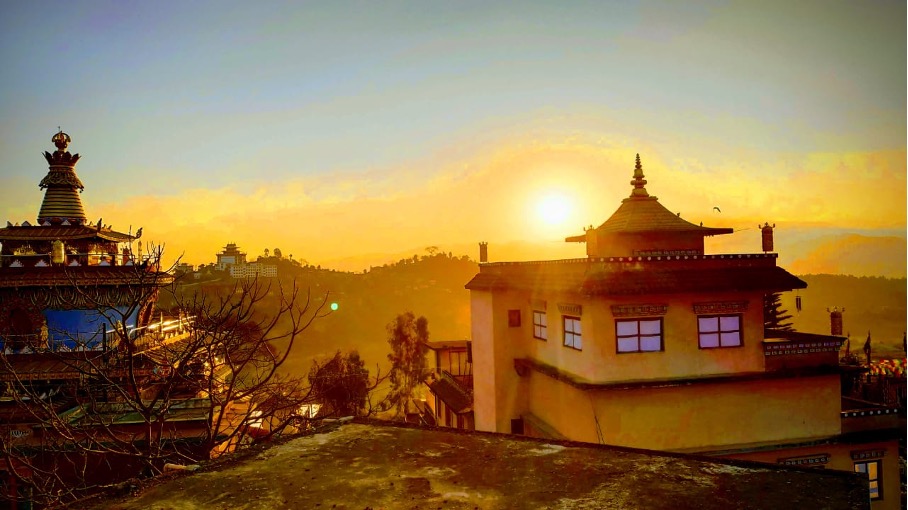 We invite Buddhist students to join the 2024 Rigpa Shedra, which is under the guidance of Khenchen Namdrol Rinpoche, for a period of in-depth study with Lopön Heather Moody.
The Rigpa Shedra is open to all students, whether interested in following the complete curriculum, or wishing to join for only one year to boost their study and practice.
Next year, students will have the chance to immerse themselves again in a continuation of the study of Mipham Rinpoche's Khenjuk (Gateway to Knowledge) which is the classic text of the Nyingma school on the Three Pitakas. Last year Lopon Heather Moody taught volume I, II and the first part of volume III, and this coming year she will finish the text teaching the remaining part of volume III and volume IV. This program is only for those who studied the previous volumes in 2023.
You will find all necessary details below.
Dates: 16 January to 8 March 2024
Weekly schedule to be found here
The Text
Mipham Rinpoche's Gateway to Knowledge is often the first text to be taught at a shedra. It contains "all you ever wanted to know but were afraid to ask" on Buddhist cosmology, ethics, philosophy and psychology.
It is a condensation of the Tripitaka (the three collections or 'baskets' into which the word of the Buddha is divided: Vinaya, Sutra and Abhidharma) and its accompanying commentaries.
Consolidating the intent of Buddha Shakyamuni's teachings into a unified body of text books, it is the philosophical backbone of the living tradition of Tibetan Buddhism. This rich source book embodies the basics of Prajnaparamita and Madhyamika as well as the Abhidharma from both the Mahayana and Hinayana perspective.
"The Gateway to Knowledge has a vital importance for followers of Buddhism. Why is that? It is not because it is vast and detailed; because it isn't. However, by studying this text and learning it well, you ensure that you have gained a rough comprehension of what the Buddha taught in general. In particular, The Gateway to Knowledge will form the circumstance for more easily understanding all the sublime words and treatises, such as the works of Nagarjuna. It is for these many reasons that Ju Mipham's Gateway to Knowledge is extremely important.

The student of The Gateway to Knowledge can begin to comprehend the meaning of the major works on Buddhist philosophy and of the traditional sciences. When you want to extract their meaning you need an "expert system," a key. The Gateway to Knowledge is like that key, a magical key – it opens up the treasury of precious gemstones in the expansive collection of Buddhist scriptures."

Once you have scrutinized The Gateway to Knowledge, those of you who wish to proceed to the major works of Buddhist philosophy will find it quite easy to understand them.

Chökyi Nyima Rinpoche
This text is suitable for (relative) beginners as well as more experienced students. It is recommended to have already followed Rigpa Courses on the Foundational and Mahayana level. It is especially recommended for teachers/instructors.
The Teacher
Our teacher will be Lopön Heather Moody, who has taught at the Rigpa Shedra several times before. She has trained extensively in a shedra context as well as in western academia and it will be a wonderful opportunity for us to get a unique perspective on this traditional treatise.
Lopön Heather Moody will teach the Gateway to Knowledge class in English online from Virginia, USA. Depending on your location you will either follow the class online directly, or else in a delayed format. 
Application process
If you are interested, please let us know by filling out the application form. We will get in touch with you and will be happy to answer all the questions you might have.
Note that the application is not yet a commitment on your side but will allow us to know you and contact you. The commitment to join our program only comes at the time of registration later in November, which is accompanied by payment.
Practical Information
Dates & Prices
Gateway to Knowledge: 16 January to 8 March  2024 
This class is streamed from Virgina, USA and is a weekly ONLINE CLASS only: (tuition fee only) €120
There will be no review classes for these 8 classes in 2024. The classes by Lopon Heather Moody are interactive.
Time investment and daily program
The time investment (sessions, study, practice) will be about 3-4 hours a week.
Schedule for the classes to be found here
Languages
All classes and activities are held in English.
NOTE: Rigpa Shedra is offering teachings on Madhyamaka (Introduction to the Middle way) as well in 2024, both in person or online; for this please refer to Rigpa Shedra 2024 Madhyamaka.