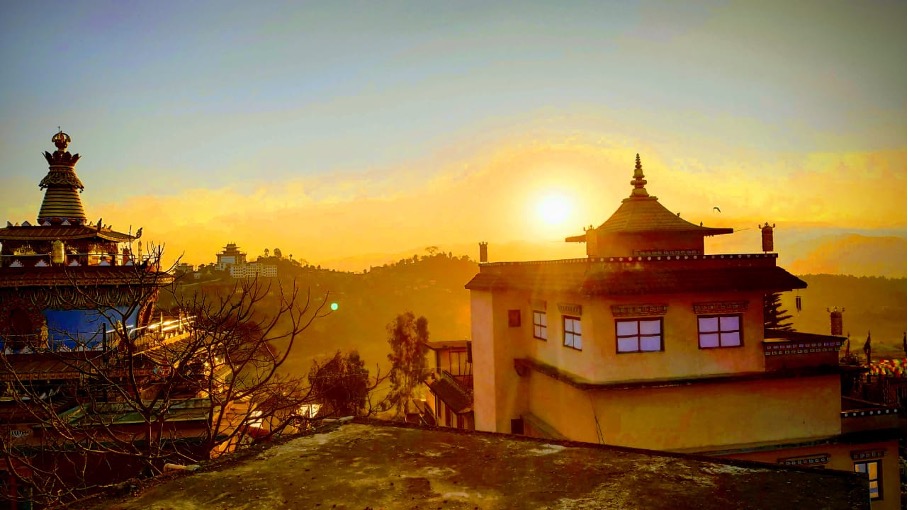 Application has closed
Dzogchen mandala students and Dzogchen Aspirants are invited to join the 2022 Rigpa Shedra Online for three months of in-depth study with Khenpo Tashi Tseten, under the guidance of Khenchen Namdrol Rinpoche.
Just like last year the Rigpa Shedra 2022 will be held online! Maybe you've always wanted to study at the shedra, but were not able to travel to and stay in Nepal for three months. Here is your chance.
From 3 January to 1 April 2022, experienced dharma-students will have the unique chance to immerse themselves (further) in the study of Longchenpa's Finding Rest in the Nature of Mind, a teaching of the Great Perfection.
Finding Rest in the Nature of Mind, a teaching of the Great Perfection, or in Tibetan: Dzogpachenpo Semnyi Ngalso, Longchenpa's classic Buddhist manual for attaining liberation, teaches us how to familiarize ourselves with our most basic nature.
Written in the fourteenth century, this text is the first volume of Longchenpa's Trilogy of Rest, a work within the Tibetan Dzogchen tradition. It is a profound and comprehensive presentation of the Buddhist view and path that combines a scholastic expository method with direct pith instructions for pointing out the nature of one's mind, designed for serious practitioners. Jetsün Khandro Rinpoche therefore classifies this text as a mengak lam rim text in the Nyingma tradition. The subject matter covers both sutra and tantra.
"In his stunningly poetic exposition, the Trilogy of Rest, Gyalwa Longchenpa illumines the great path to enlightenment with unsurpassable depth and detail. Volume 1 of the trilogy, Finding Rest in the Nature of the Mind, sets us upon that path, grounding us from our very first steps through to the profound—showing the most profound to be grounded in unshakable simplicity. Brilliantly clarifying the complexities we create to come to this realization, Longchenpa easily and clearly reveals the concordance of the journey's various stages." Jetsün Khandro Rinpoche
In 2020 and 2021 we studied the first eight chapters of the text, which present Longchenpa's brilliant explanation of key sutra teachings, going deeply into the Four Thoughts that turn the mind away from Samsara, Following a spiritual teacher, Taking refuge, The Four Immeasurables and Cultivating Relative and Absolute Bodhicitta.
In 2022 we will proceed to the tantra section of the text, which will be an indispensable guide to our Vajrayana practice, teaching the view of tantra and associated meditation techniques. The last chapters point out the ground, path and fruition of Dzogchen.
Our teacher will be Khenpo Tashi Tseten, a brilliant young khenpo from Namdrolling Monastery in South India. He is considered to be one of the most promising khenpos of his generation and has been teaching at the Rigpa Shedra for the past seven years. Together with the wealth of his knowledge and the clarity of his explanations, he has a rare capacity to tune into students' understanding and needs, which makes his teachings truly inspiring and illuminating.
Dzogchen mandala Students and Dzogchen Aspirants who haven't followed shedra 2020 and/or 2021 will exceptionally also be allowed to join the teachings at this point. There will be an opportunity to review teachings on the first eight chapters prior to or after the Rigpa Shedra 2022 programme.
Shedra-teachers Verena Pfeiffer and Chantal Bergers will offer a summary of the first eight chapters in 8 sessions from 24 November to 8 December 2021, that can be followed live or in your own time (dates, times and suggested offering to be announced soon).
Tibetan classes
As well as learning the classical texts of our tradition, the Rigpa Shedra Online also offers all students the opportunity to learn Tibetan.
During the year, Tibetan classes will be given by Stefan Gueffroy on several levels, from absolute beginners to translators in the making. There will also be classes that are especially interesting for practitioners, with a focus on being able to read your practice text in Tibetan.
If you are interested in learning Tibetan, but can't join the shedra program, please write to shedra@rigpa.org
Practical Information
Dates & Prices
Rigpa Shedra will be from 3 January to 1 April 2022
Online Study Program Fees: €840
The fee includes tuition, reviews, study guidance and assessments.
If you can't afford the complete fee, please still apply, there may be different possibilities for supporting you in your studies, such as applying for a study grant from the Tertön Sogyal foundation.
Language
The main class each day is translated from Tibetan into English by our wonderful translator Christina Monson. All other classes and activities are held in English.
Daily program and commitment to follow.
The online Rigpa Shedra will emulate the Rigpa Shedra in Nepal as much as possible. The time investment (sessions, study, practice) will be at least 5 hours a day from Monday to Friday. It's important not to have any major obligations next to following this programme, in order to allow you to really make the most of this precious opportunity. The daily programme will include
Class with Khenpo Tashi Tseten
Review session
Study groups to prepare for review class (or personal revision)
Personal practice
There will also be assessments to help you check your knowledge and understanding as a skillful tool for your studies.
Requirements for following Rigpa Shedra 2022 Finding Rest in the Nature of Mind, a teaching on the Great Perfection:
Due to the special nature of these teachings it is especially important to be able to join all Zoom-sessions live (or for some time zones, at the time they are offered as a group session). It is very rare to be able to receive teachings of this nature and it is important that together as a group we create the right conditions and auspicious circumstances. It will also be helpful for each of us personally on the path.
– able to join all teaching sessions from beginning to end, and all group reviews
– able to spend 1-2 hours per day on personal study and practice (which together with the teaching and review class adds up to at least 5 hours a day)
– solid grounding in the Ngöndro, having completed at least 25%, preferably more.
– having received the Shyitro empowerment in person (according to the instructions of Khenchen Namdrol the empowerment needs to have been received in person and not online; if you have not received these empowerments in person, please still apply. We will do our best to find a way for you to receive the required empowerment.)
–and/or having received the Nyintik Yabshyi empowerment in person
-committing to study whatever you have missed of the first 8 chapters of the Finding Rest in the Nature of Mind taught by Khenpo Tashi Tseten, before or after following shedra 2022.
If you are also studying the Chöying Dzö with Khenchen Namdrol, and/or the Yönten Dzö with Khenchen Pema Sherab, please still apply. We have created possibilities for you to follow these teachings as well.
Application process
If you are interested, please let us know by filling out the application form here. We will then get in touch with you and will be happy to answer all the questions you might have. It is not always easy to free up three months and to make a decision for such a big commitment. Also for us it is important to get to know you and where you are at on your path. We can explore together to determine if this program is appropriate for you at this point in time.
Note that the application is not yet a commitment on your side or an acceptance from our side, but will allow us to know you and contact you. The commitment to join our program only comes at the time of registration in November, which is accompanied by payment.
Links